ON THE SAME BOARD AS YOUR EMPLOYEES
Our sound protection for the corrugated cardboard and paper industry
Rely on forward-looking and effective sound-insulating concepts for your organization with FAIST's comprehensive program. Our noise control facilities guarantee you the values stipulated for the corrugated industry under EC Directive Noise DIN EN 13023.
Corrugators, laminating units, cutting and creasing station as well as guillotine and edge-trim exhauster – we include all relevant sources of noise in your corrugators and processing area. All aggregates can be individually or collectively enclosed, for instance with a hall-high wall.
As an operator, you will benefit from complete noise-protection enclosure of your machines using sound-insulating cabins and control centers for an employee-friendly acoustic level and clean air in your factory work shop.

Highest planning accuracy
Our noise control for extensively detailed laminating units is a prime example. Our concepts are always perfectly in line with your operational procedures – in this case with the purposeful incorporation of the brake- and sheet-run regulating station into the cabin.
We also deliver well-designed noise control for your entire dryend, made necessary by high sound levels at cutting and creasing machines, at the guillotine and at the edge-trim exhauster.
We would be glad to provide you with a quote for sound insulating your processing machines.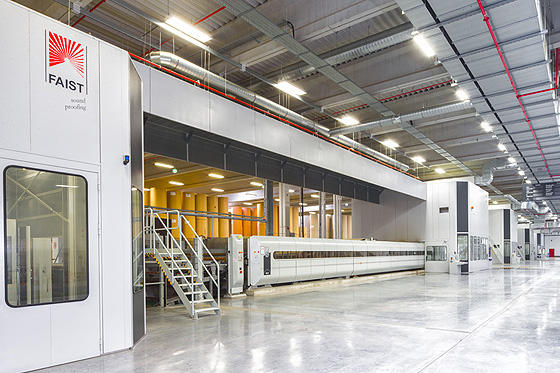 Perfect form, perfect function
Our sound-proofing cabins also appeal to the eye with high-grade powder coating, tactical use of safety glass and individually arranged doors and sliding doors for selective transparency, comfortable operation of the machine and simple handling of paper webs.
Well-designed ventilation
FAIST optimally coordinates supply and exhaust air for extraction of humid and warm air from the cabins, thus ensuring the high quality of your corrugated cardboard. We also provide optional filter systems and heat recovery.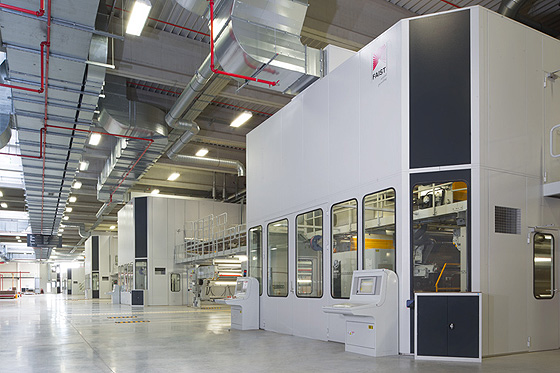 Best working conditions
Our Operator cabins feature good visibility, screen-suitable lighting and pleasant climate control for your employees. The conductive double flooring panels enable concealed cable laying. Two-story cabins for use as office, IT or storage room are also part of our product range.
Additional acoustic installations
Choose acoustically effective installations from FAIST for improved acoustics and noise-protection in your production hall. We reduce background noise level by up to 5 dB(A) with our absorbent wall and ceiling claddings. It makes sense to plan these absorption surfaces into design prior to starting – we would be pleased to advise you.