WITH HIGH PRESSURE FOR LESS NOISE
Acoustic Systems for the printing industry
We provide sound- and noise-protection solutions oriented to the high demands of your print shop. Whether job work, intaglio or newspaper print, FAIST ensures workplace optimization in all areas of your company.
Continuous development of noise protection and implementation of innovative ideas have made us the leading company for print shops worldwide. Individually planned sound proofing, transparency, color, ventilation and lighting – our flexible standard construction system for sound and noise protection precisely fulfills your requirements.
It is good to know that the statutory maximum sound level at workplaces in print shops according to VBG 121 stands at 83 dB(A). Many print shops have already determined a maximum sound level of under 70 dB(A).

Noise protection in job printing: high performance – low noise
The partly very high speeds in job printing enable you to achieve enormous production performance. High noise exposure for persons at the machine makes customized noise protection especially important. Our sound- and noise-protection facilities provide your employees in job printing with an ideal work environment.
The statutory maximum acoustic level for workplaces in print shops according to VBG 121 is at 83 dB(A) for job printing. For noise levels of max. 83 dB(A) no verifiable hearing damage is to be expected, but many print shops have decided that sound levels of  under 70 dB(A), including for job printing, is the proper level.
In planning our sound-proofing systems and noise-protection facilities for print shops, our focus is on people and their performance. With innovative sound-protection and noise-protection concepts for print shops, FAIST has traveled new paths and will continue to pursue them in order to provide people with an optimum work environment in the print industry and paper industry.
Come with us.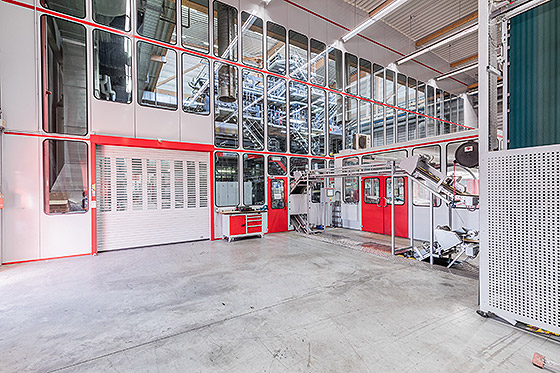 Noise protection in newspaper printing – the control center solution.
By setting up the control console in its own, noise-protected control station, newspaper print shops are optimally noise protected. We drastically reduce the legally stipulated sound level of under 70 dB(A) with our products. FAIST control centers achieve conditions which often are not available in offices: sound level of under 60 dB(A) in direct proximity to folding units, approx. 110 dB(A) near four-high towers. A highly absorbent acoustic wall cladding reduces sound level in the printing hall by 6 to 10 dB, for an improved acoustic environment and reduction in noise at the workplace and outside.