BECOMING A QUIET NEIGHBOR.
Our sound-insulating Compact Packages for small power stations
As operator of a power station in the lower power range, our Compact Packages are the classic sound-insulating solution for you. This sound proofing system is installed into your small power station within three workdays. All components are pre-assembled on our premises, and the mechanical inspection test of the sound-insulating hood and filter house also take place at FAIST. The already installed connections for gas and fresh-air supply allow for quick and uncomplicated start-up. Ventilation is customized to the small power station and optimized with regard to sound insulation and lowest possible pressure loss.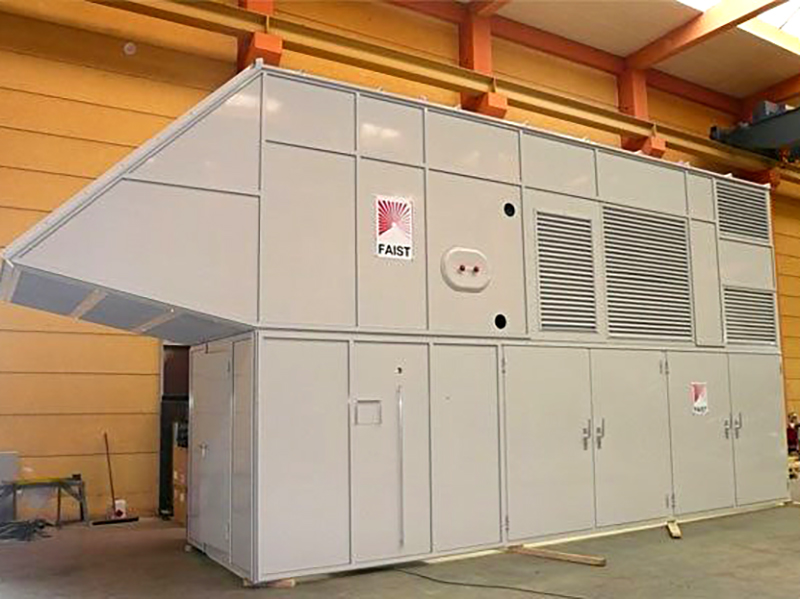 Clean room requirements
Clean room requirements apply in the area between filter house and sound proofing hood. This reduces the hazard of soiling and the resulting damage to a minimum.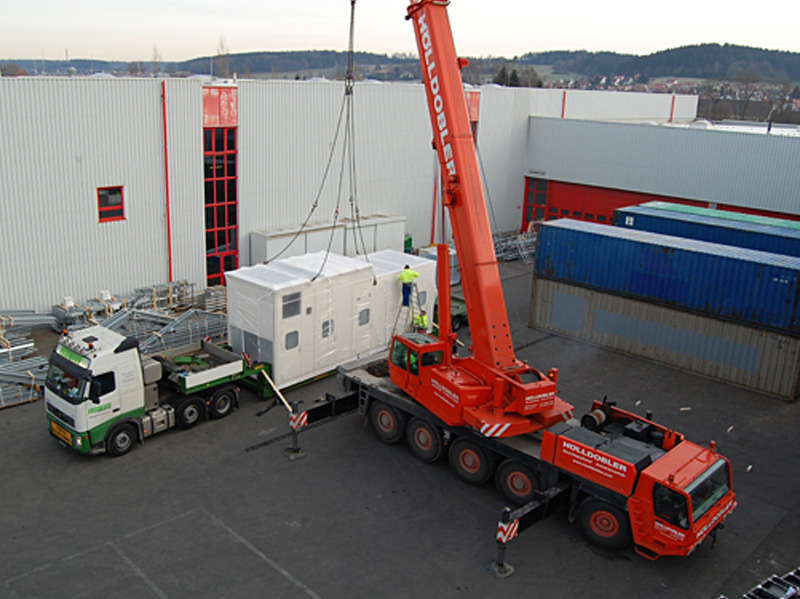 Safety requirements
Your requirements where safety is concerned are the law as far as we are concerned. We use only explosion-proof components for our sound-insulating Compact Packages. Benefit from our experience and know-how in sound insulation for small power plants – contact us for a non-binding consultation.
NOISE PROTECTION USING SOUND INSULATION AT COGENERATION PLANTS
Cogeneration plants can be environmentally-friendly also at a high overall equipment effectiveness. Generating electrical energy and heat in combination improves overall equipment effectiveness of cogeneration plants up to 90%. This concept incorporates our compact sound proofing cabin for noise protection of cogeneration plants while acting as a heat-insulating hood at the same time.
The design layout involves meeting the different requirements for noise protection of cogeneration plants:
// Accesibility     // Demountability     // Sufficient ventilation     // Vibration insulation     // Acoustic optimization

Based on ambient conditions and the frequency spectrum of individual components, our technicians define the acoustic hardware components. We work out an environmentally-friendly and economical solution for the noise protection of your cogeneration plant.
As your partner in noise protection for cogeneration plants, FAIST guarantees smooth progress of the project. In the preparatory stage our sales and distribution, together with the customer, will work out a solution tailored to your boundary conditions for the sound insulation of your cogeneration plant.
Once assigned, this soundproofing concept is seamlessly submitted to our Project Management/Engineering Department, which will implement the results with regard to noise protection at the cogeneration plant and carry out the project in close coordination with the customer.
After the production of the soundproofing components for the cogeneration plant (soundproofing elements in steel construction, sheet metal construction, silencers, ventilation), they are professionally packaged and shipped. Noise protection for cogeneration plants is set up on site by our competent assembly teams.