Effective soundproofing for testing heavy construction machinery

Where prototypes of heavy construction machines are put through their paces, things are not always quiet. A noise protection package from FAIST in the Liebherr development center in Kirchberg ensures that the developers in the same building can still do their work in peace and quietness. 
Liebherr-Hydraulikbagger GmbH produces around 3,000 excavators a year in Kirchdorf an der Iller, making it one of the world's leading manufacturers. The company invested around 30 million € in a new development center in 2018. The centerpiece is the 4,500 m² test hall, in which prototypes of new model generations are assembled and tested. Various test stands are available for these tasks – including those with which the stress on the robust machines is specifically tested and which can be correspondingly loud.
The developers of the machines and the associated software are also located in the same building, some directly adjacent. It was therefore necessary to ensure that the noise emissions from the test hall were not transferred to the office wing and also not to the outside, as the hall was located near a residential area. Liebherr wanted the employees to be able to work in the hall itself without hearing protection.
Martin Büche, Head of Testing and Validation at Liebherr in Kirchdorf, quantifies the requirements for sound insulation: "Our goals were: 55dB (A) in the building, 80dB (A) on the test stands and 40dB (A) in the surrounding of the building."
An acoustic expert determined the necessary noise control measures in advance. He recommended to cover the entire test stand with soundproofing elements on the walls and ceiling. The new building was planned with the costs calculated for this.
A few months later, the shell was in place, the subject of noise protection came into focus and Liebherr was looking for a suitable partner for the implementation. The choice fell on FAIST Anlagenbau – for the following reasons: distinctive expertise, in-house production, best references from test stand construction and a proven supplier at Liebherr. The proximity was also rated positively: Krumbach, FAIST's headquarters, is only 35 kilometers from Kirchdorf.
After an inspection of the location, the FAIST experts were able to show savings options compared to the expert opinion in a first written statement. René Gums, head of Silence and Acoustic Systems (SAS) business unit at FAIST: "We have demonstrated that significant parts of the noise reduction have already been carried out by the shell and that the recommendations of the report do not have to be fully implemented. Instead, we were able to limit ourselves to what is technically sensible and economically necessary."
The following measures were implemented: absorbing wall elements on the main surfaces to reduce the reverberation time, cladding of the control room on the test stand, soundproofing windows at the control room, fixed soundproofing walls in production as well as mobile soundproofing walls for acoustic screening of tests.
After installing these soundproofing elements, a FAIST sound measure-ment showed: All requirements are met, no further measures are required. This means that those responsible at Liebherr can be completely satisfied. Martin Büche: "The pragmatic approach was exactly right: It quickly led to the right goal and we also achieved savings in the six-digit range." He describes the result from a subjective point of view: "When I'm in the office, I hardly hear the noise from the test stands."
As a special "extra", a new development from FAIST was implemented: an LCD screen at a test stand, which is connected to a continuous sound measurement and shows the mandatory sign "wear hearing protection" as soon as 80dB (A) are exceeded. This is hearing protection "on demand".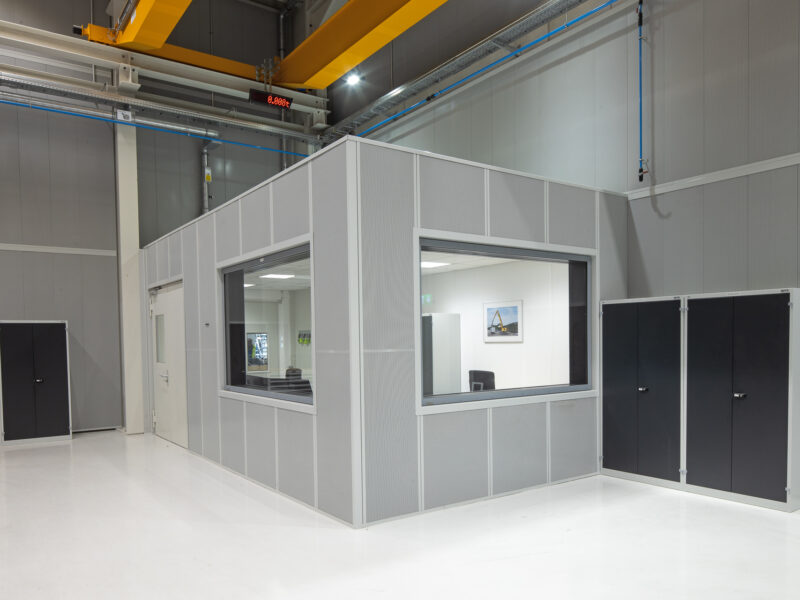 Dear Customers, Partners and Friends,
In view of the rapid advance of the coronavirus across Europe, we would like to inform you of the steps, which the FAIST Group and in particular the FAIST Anlagenbau GmbH have taken in order to be able to continue to provide you with our supplies and services even under these extremely difficult circumstances.
Our first priority, of course, is the safety and well-being of all our employees, their families and all our customers worldwide. We tackled the situation at a very early stage by setting up an internal crisis team. It meets 2 – 3 times a week and is also in contact with our overseas offices around the world.
At these meetings, appropriate measures have already been agreed. These include hygiene standards, the maintenance of an appropriate distance to possible sick persons, travel warnings and restrictions, following local regulations, as well as regulations concerning the introduction of home office working, etc.
Unfortunately, the declared risk areas by Robert Koch Institute have now gradually expanded. Nevertheless, we were able to maintain our work to a large extent during February and have succeeded in doing so thus far in March. Moreover, we are still running our production in Germany on a high level to secure our customers projects. Due to the nature of our business, we are highly dependent on our worldwide supplier base.
The situation in Europe has deteriorated considerably in recent days. Borders have been closed and the movement of goods is subject to delays.
Of course we shall endeavor to find every possible reasonable and realistic alternative solution in order to be able to continue to provide the relevant services, albeit possibly to a lesser extent but in any case without risking the health of our employees and relevant staff – and yours as well.
If it is no longer possible for engineers or other service staff to travel safely to other locations, it will unfortunately not be possible for them to carry out work elsewhere. Our duty of care towards our employees is obviously our top priority.
Once again we ask for your understanding that it will take time for us to be able to develop the appropriate plans to deal wisely with this new, dynamic situation. Above all, any arrangements must also be able to guarantee the safety and quality of the services we provide both internally and on our construction sites.
We would like to take this opportunity to thank you for the consideration you have shown so far. You can be sure that we shall deal with this difficult situation conscientiously and responsibly at all times and will do everything in our power to find appropriate alternatives in the spirit of a cooperative partnership.
Yours sincerely,
FAIST Anlagenbau GmbH
Roger Schmidt (CEO), Wilfried Thies (CSO), Heinz Rättich (CFO)
See FAIST live on the following exhibitions in 2018:
Testing Expo China 2018
25.09. – 27.09.2018
Sweecc Congress Center
Shanghai, China
Booth No. 5006
Automotive Testing Expo America 2018
23.10. – 25.10.2018
The Suburban Showplace, Novi, MI, USA
Novi, MI, USA
Booth No. 4002

In cooperation with their new Mexican sales partner MB Instrumentos, FAIST presented their products at the ATS Testing Show in Querétaro, Mexico for their first time from 11th – 12th of April.
This partner-booth was one of the biggest one on this exhibition. FAIST exhibited their well-known broadband compact absorber (BCA) system with a special model.
All in all it was a very interesting exhibition for FAIST, with many new contacts and lots of experience.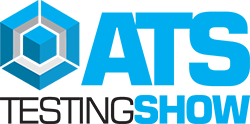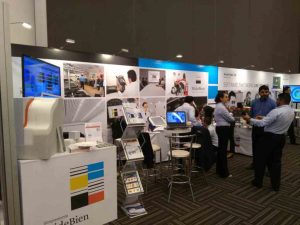 FAIST expands their distributor network

After the successful implementation of several distributors in China, Japan, United Kingdom, Spain, Turkey, United States of America and some more, FAIST amplifies with two more agents:
One in the Czech Republic and another one in Mexico, where we want to approach new markets. With our new agent in Mexico we have already realized the first project with great success. Due to the implementation of the new distributors FAIST wants to enhance their worldwide presence especially in East European and in North America. Together with their new agent FAIST will join the Automotive Testing Show in Mexico this April for the first time. (11.04.-12.04.2018)
We are looking forward to meeting you at the ATS in Mexico.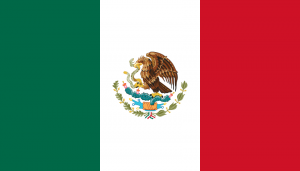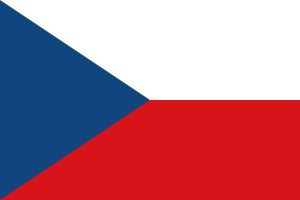 Testing Expo North America 2017

(Novi-MI, 24. – 26.10.2017)
The Automotive Testing Expo North America is a trade fair for automotive test, evaluation and quality engineering. It is one of the most important event of its kind in North America. The exhibition focuses on the latest technologies and services to improve quality, safety, reliability and durability of vehicles.
For FAIST as an exhibitor the fair was very successfull. Thousands of visitors joined the Testing show this yearin Novi where we met some new and well known business contacts.
Thanks to all visitors who joined the FAIST booth.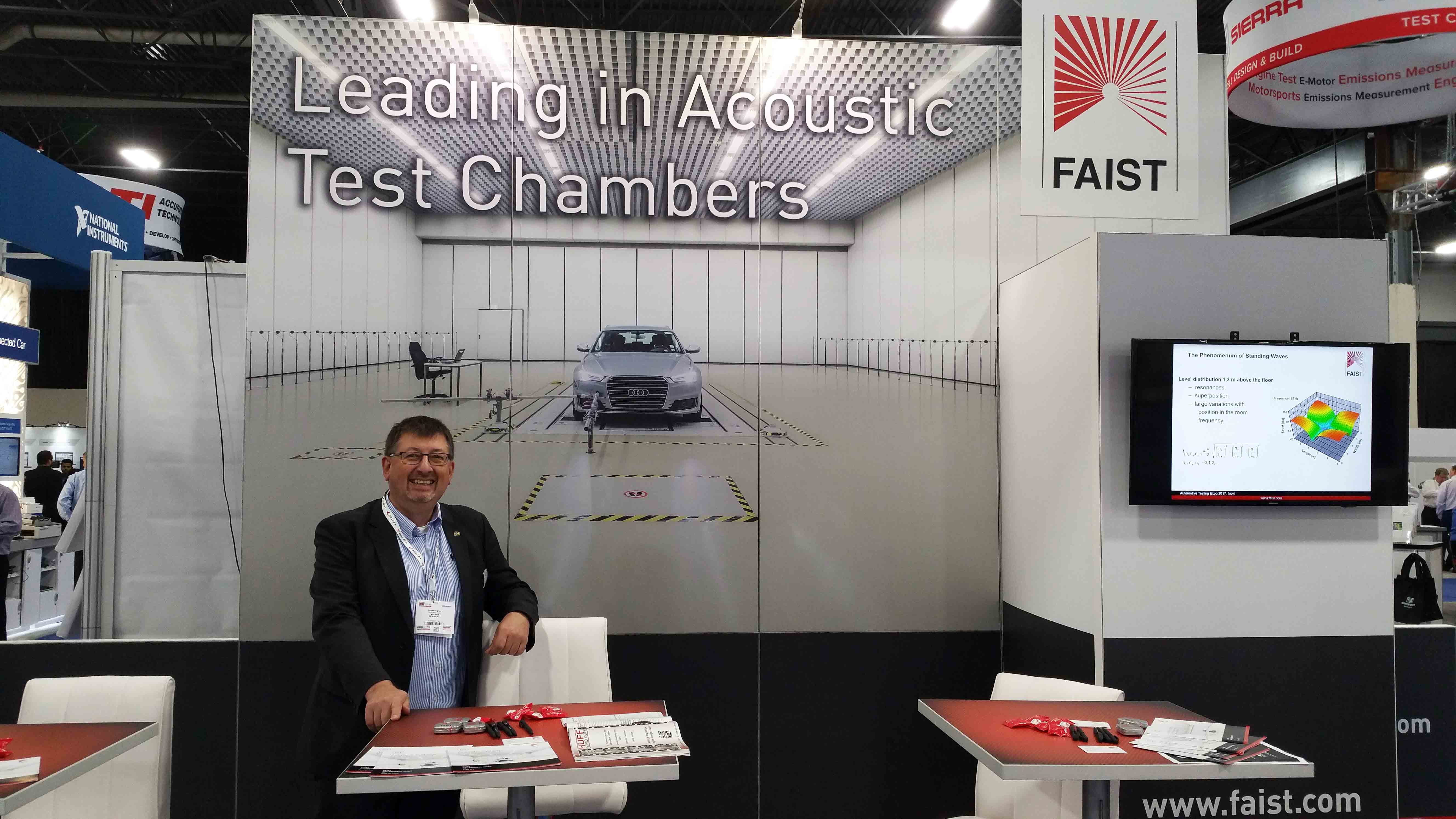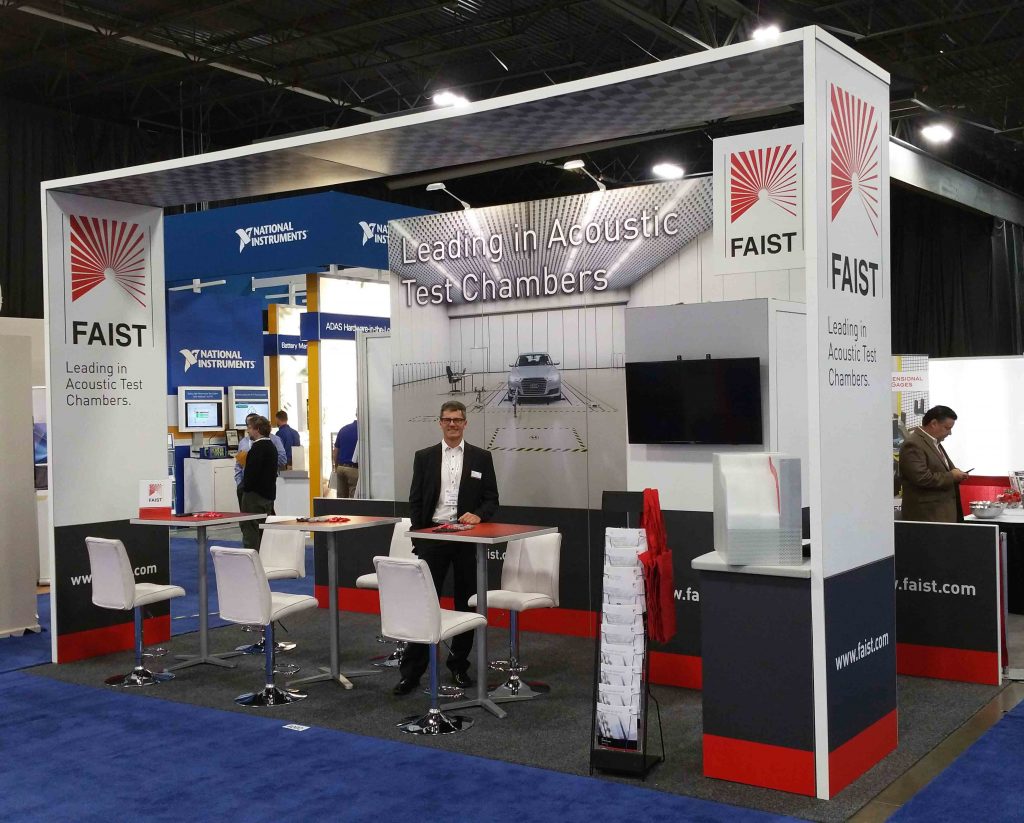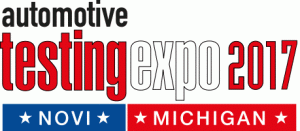 Education fair Guenzburg 2017

(Guenzburg, 07.10.2017)
FAIST joined the education fair in Guenzburg on 07th of October again.
This fair is a platform for interestet pupils from different school types to see what education professions companies like FAIST offer.
We were glad with the feedback from the fair and we are looking forward getting some applications soon.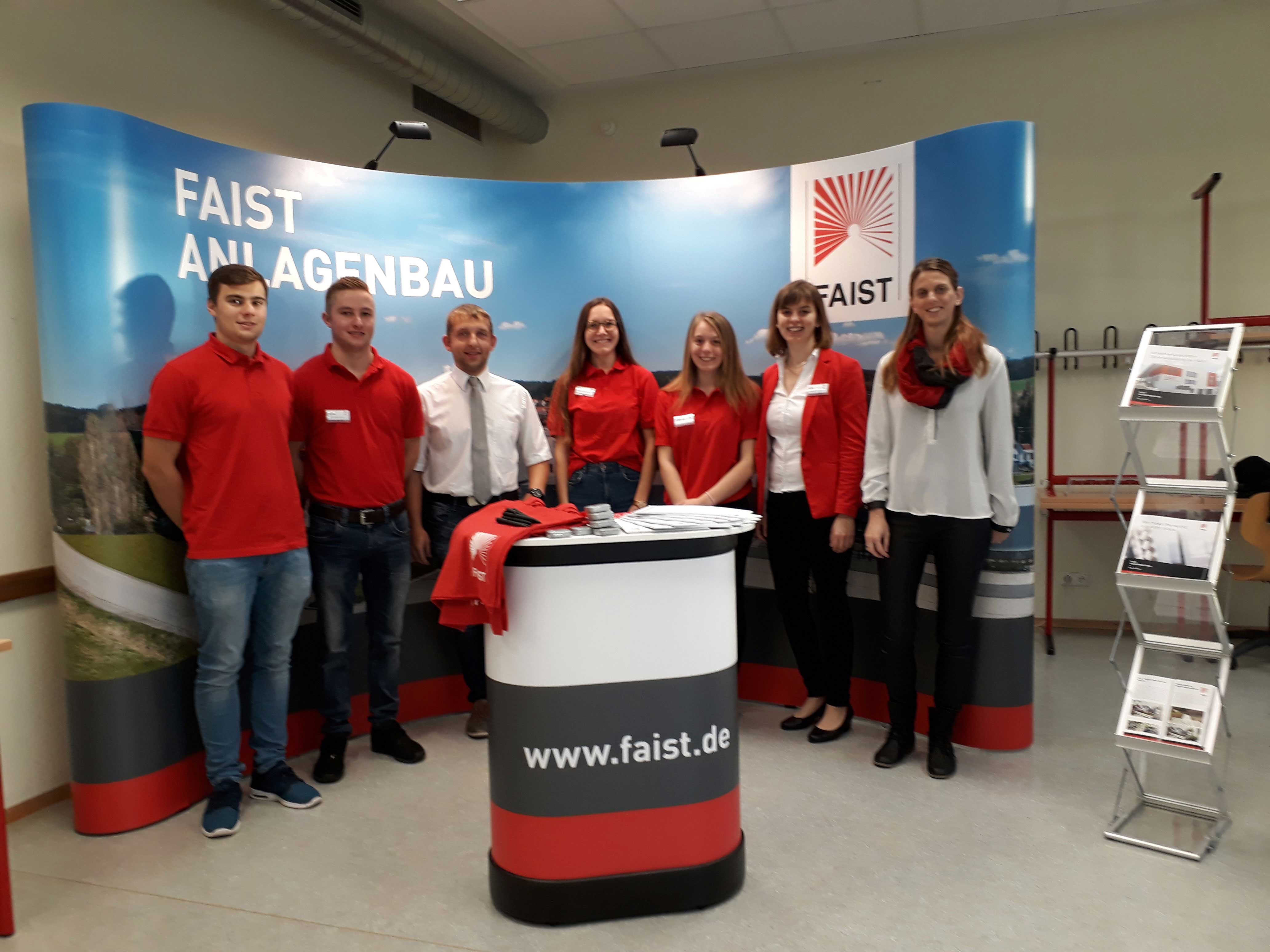 PowerGen-Europe 2017

(Cologne, 27.06. – 29.06.2017)
We participated one last time in PowerGen-Europe because from next year on, this exhibition will be called "Electrify-Europe".
This year again our booth was a platform for international exchange. Visitors from all over the world joined the FAIST booth for intensive conversations, which are the foundation for a successful collaboration.
For FAIST the PowerGen-Europe in Cologne 2017 was a successful exhibition.
On this way we want to say thank you to all visitors at our booth and we are looking forward to seeing you soon again.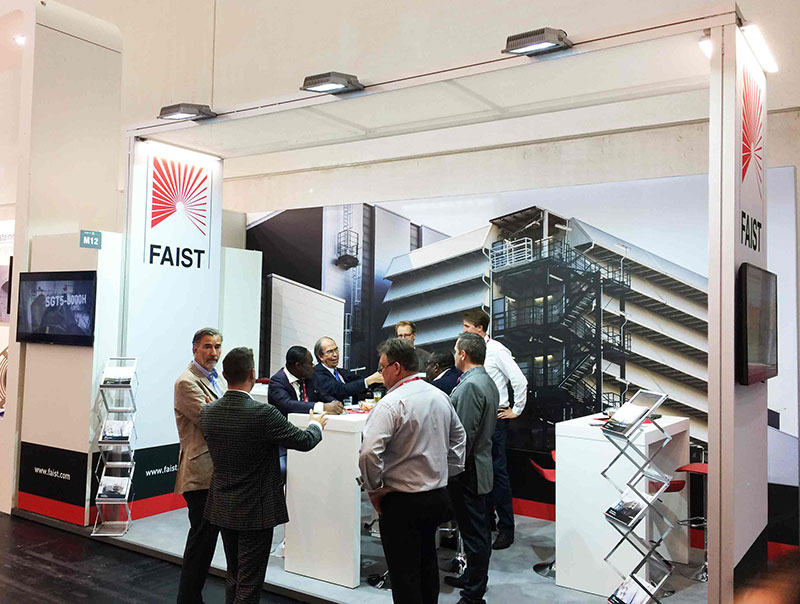 Automotive Testing Expo Europe 2017

(Stuttgart, 20.06. – 22.06.2017)
As an experienced exhibitor, FAIST was also on the Automotive Testing Expo in Stuttgart this year.
Our new designed booth invited many old and new customers and suppliers for intensive conversations. We look forward to welcoming you again next year at the Testing Expo Europe in Hall 10, booth No. 1402.
See you in 2018!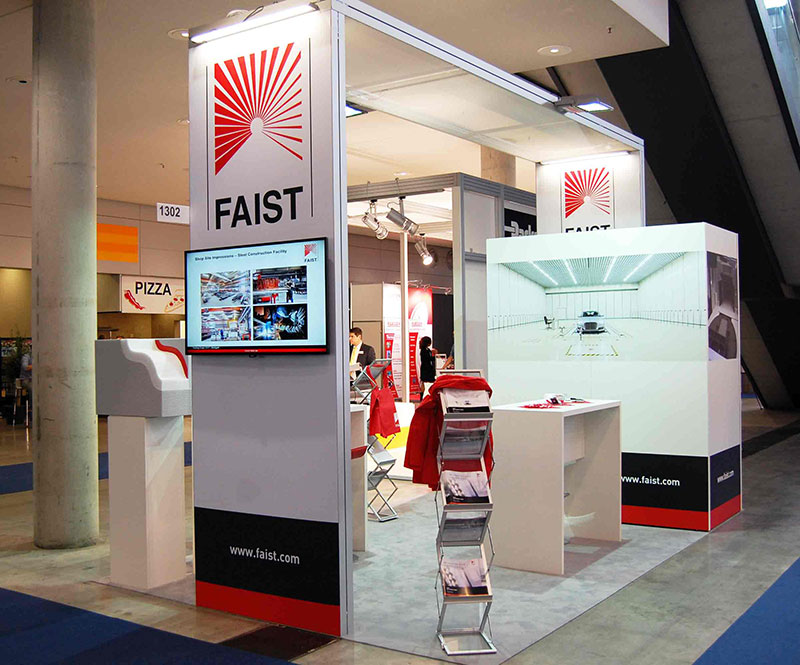 FAIST joined m-net Company-run in Augsburg

Augsburg, 11th of May, m-net-company run took place again for the sixth time. This year about 11.000 attendees joined the competition.
Along the lines of "FAIST – always one step ahead" 16 employees attended the 6.5 km distance.
Despite a thunderstorm at the beginning every FAIST-runner crossed the finish line well. Most successful runner of FAIST was Mr. Stefan Kugler (00:25:19:1) with a great 138th place.
FAIST "Men-Team" also had a successful result with 33th place of about 1.700 teams.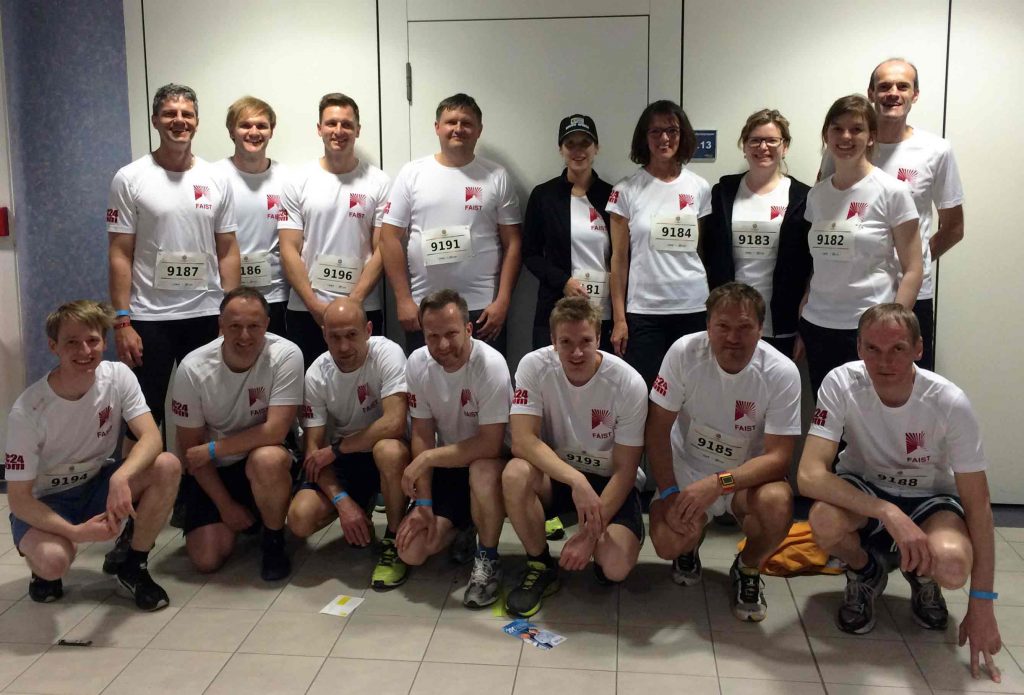 FAIST Design – Sound proofing in new shape

Your sound proofing specialist with a new design – FAIST combine quality and design with a modern and appealing design as well as several innovative features.
Enhance the visual appearance of your machines and facilities with our new FAIST Design – and make your production halls shine.